Roots of the xerophyte Panicum turgidum host a cohort of ionizing-radiation-resistant biotechnologically-valuable bacteria
Bacterial communities associated with roots of Panicum turgidum, exposed to arid conditions, were investigated with a combination of cultural and metataxonomic approaches. Traditional culture-based techniques were used and 32 isolates from the irradiated roots were identified as belonging to Actinobacteria, Bacteroidetes, Firmicutes and Proteobacteria phyla. Four actinobacterial strains were shown to be ionizing-radiation (IR)-resistant: Microbacterium sp. PT8 (4.8 kGy (kGy)), Micrococcus sp. PT11 (4.4 kGy), Kocuria rhizophila PT10 (2.9 kGy) and Promicromonospora panici PT9T (2.6 kGy), based on the D10 dose necessary for a 90% reduction in colony forming units (CFU). Concerning the investigation of microbial communities in situ, metataxonomic analyses of the diversity of IR-resistant microorganisms associated with irradiated roots revealed a marked dominance of Actinobacteria (46.6%) and Proteobacteria (31.5%) compared to Bacteroidetes (4.6%) and Firmicutes (3.2%). Gamma irradiation not only changed the structure of bacterial communities, but also affected their functional properties. Comparative analyses of metabolic profiles indicated the induction of several pathways related to adaptation to oxidative stress in irradiated roots, such as DNA repair, secondary metabolites synthesis, reactive oxygen species (ROS)-mitigating enzymes, etc. P. turgidum is emblematic of desert-adapted plants. Until now, there is no other work that has focused on the microbial profile of irradiated roots of this xerophyte.
Les communautés bactériennes associées aux racines dePanicum turgide, exposés à des conditions arides, ont été investis-associée à une combinaison d'approches culturelles et métataxonomiques. Technologie traditionnelle basée sur la culture-ont été utilisées et 32 ​​isolats de racines irradiées ont été identifiés comme appartenant àActinobactéries, Bacteroidetes, Firmicutes et Proteobacteria embranchements. Quatre souches actinobactériennes ont étéRésistant aux rayonnements ionisants (IR) :Microbactériesp. PT8 (4,8 kGy (kGy)),Microcoquesp.PT11 (4,4 kGy),Kocuria rhizophilaPT10 (2,9 kGy) etPromicromonospora paniciPT9T(2,6 kGy), basésur le Ddixdose nécessaire pour une réduction de 90 % des unités formant colonies (UFC). Concernant l'enquêtedes communautés microbiennesin situ, analyses métataxonomiques de la diversité des microorganismes résistants aux IRassociée aux racines irradiées a révélé une dominance marquée des Actinobactéries (46,6%) etProtéobactéries (31,5%) par rapport aux Bacteroidetes (4,6%) et Firmicutes (3,2%). Irradiation gamma nonn'ont fait que modifier la structure des communautés bactériennes, mais ont également affecté leurs propriétés fonctionnelles.Des analyses comparatives des profils métaboliques ont indiqué l'induction de plusieurs voies liées à l'adaptation.au stress oxydatif dans les racines irradiées, comme la réparation de l'ADN, la synthèse de métabolites secondaires, la réactionenzymes atténuant les espèces oxygénées (ROS),etc. P. turgidumest emblématique des plantes adaptées au désert.Jusqu'à présent, aucun autre travail n'a porté sur le profil microbien des racines irradiées de cexérophyte.
Fichier principal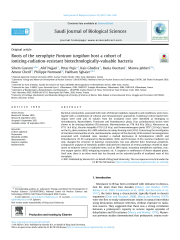 1-s2.0-S1319562X21008214-main.pdf (1.42 Mo)
Télécharger le fichier
Origin : Publication funded by an institution