[Selectins as adhesion molecules and potential therapeutic target].
Les sélectines : acteurs de l'adhérence cellulaire et potentiel cible thérapeutique
Selectins belong to the family of adhesion molecules that recognize sugars as ligands through their Carbohydrate Recognition Domain (CRD). There are three types of selectin: the L-selectin (CD62L), which is constitutively expressed by most leukocyte populations, the P-selectin (CD62P) is found on activated platelets and endothelial cells, and the E-selectin (CD62E) expressed by activated endothelial cells. These three molecules exhibit high homology in their structures. Selectin-ligand interactions are among the most studied protein-glycan interactions in biology. The selectins and theirs ligands are involved in regulating inflammatory and immunological events that occur at the interface of the bloodstream and vessel walls. Their molecular partners are surface glycoconjugates harboring groups of the sialyl-Lewis antigens. This review presents an inventory of our current knowledge on the structures and functions of selectins and their ligands. We also provide an update on their involvement in pathophysiological processes, especially during inflammation and tumor development.
Les sélectines font partie de la famille des molécules d'adhérence et ont la particularité de posséder un domaine de liaison aux sucres, le CRD (Carbohydrate Recognition Domain). On distingue trois types de sélectine: la L-sélectine (CD62L) qui est exprimée constitutivement par la plupart des populations leucocytaires, la P-sélectine (CD62P) qui est retrouvée sur le s plaquettes et les cellules endothéliales et la E-sélectine (CD62E) exprimée par les cellules endothéliales activées. Ces trois molécules possèdent une forte homologie au niveau de leur séquence primaire et de leurs structures. Les interactions sélectine-ligand sont les plus étudiées parmi les interactions protéine-glycanne connues en biologie. Elles sont impliquées dans la régulation des évènements inflammatoires et immunologiques à l'interface paroi vasculaire/ circulation sanguine. Leurs partenaires moléculaires sont des glyco conjugués de surface exprimant des groupements de la famille des sialyl-Lewis. Cette revue présente l'état des lieux des connaissances sur la structure et l'expression des sélectines et de leurs ligands. Elle fait aussi le point sur leur implication en physiopathologie, principalement lors de l'inflammation et du développement tumoral
Fichier principal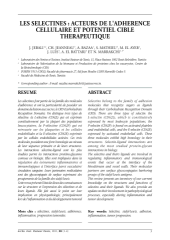 J.Jebali_et_Coll.pdf (586.76 Ko)
Télécharger le fichier
Origin : Explicit agreement for this submission